GEMVIE Black Derby Bowler Hat
This Product Sent from Amercan Warehouse
Sale price
$45.99
Regular price
Product description
Shipping & Return
Hat Size Chart
MATERIAL - 100% Wool Felt | Reinforced Body & Brim | Fully Lined Satin Interior,Comfortable for all-day wear.
DESIGN - Grosgrain Ribbon Band Accent | Premium Quality & Craftsmanship,Traditional Bowler Derby Hat for any occasions.
CLASSIC & STYLISH - Features a classic 2-inch roll up brim and a 4.5-inch crown,beautiful colors available in black ,grey ,red and brown.
MULTI-SIZES: Small = 55cm - 6 7/8 | Medium = 57cm - 7 1/8 | Large = 59cm - 7 3/8 | X-Large = 61cm - 7 5/8.Comes with 2 hat size reducer tapes.
BRAND SERVICES: "GEMVIE HAT" focus on high-quality and classic hats to bring satisfaction to more people ! If there is any problem,Please feel free to contact us and we will be happy to serve for you !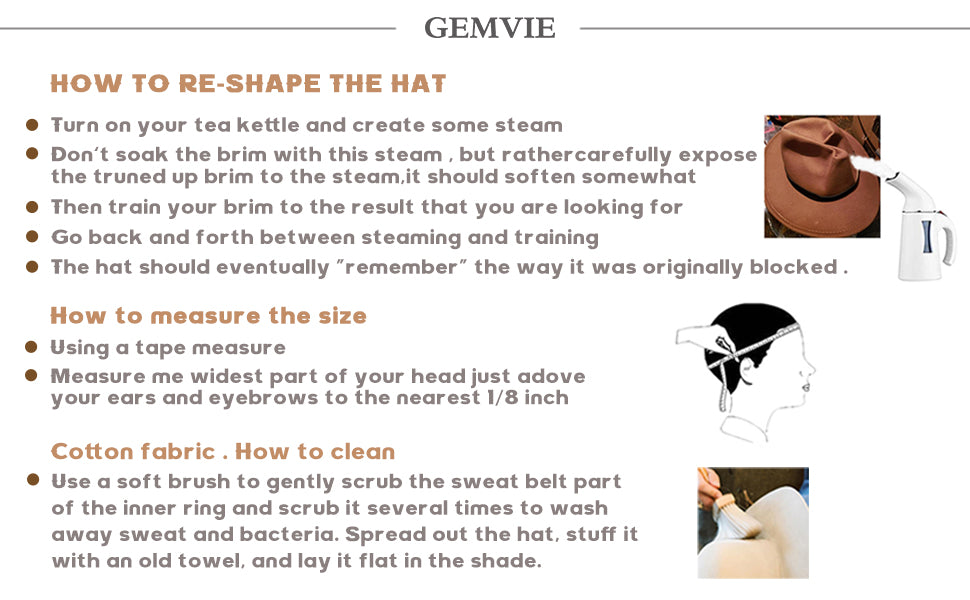 Delivery Time:
We offer fast and reliable shipping services to the US, UK, Europe, Australia, and other selected countries. Our American warehouse stocks will be sent to US customers within 3-5 business days, while stocks in our China warehouse will take 10-20 days for delivery from Mainland China. For inquiries on delivery times to other countries, please contact us at flag.jia@gmail.com.
Shipping Destinations:
We ship to the US, UK, Europe, Australia, and other selected countries. Please contact us directly for more information on specific countries and stocks we ship to.
Shipping Method:
For stocks in our American warehouse, we partner with credible logistics providers like Amazon to deliver our quality products to you. For stocks in our China warehouse, delivered by China Post Air Mail.
Multiple Item Orders:
We make every effort to deliver all your items at the same time. However, different shipping options may apply depending on the product. You will receive a shipping notification email once your item has been dispatched.
Delivery Address Changes:
Unfortunately, we cannot change the shipping details once the product is en route. Please ensure that you provide the correct shipping information at the time of purchase.
Product Discrepancy:
We take pride in providing quality products to our customers. In case you receive a different product from what you ordered, please contact our customer support team at flag.jia@gamil.com.
Shipping Fees:
Currently, we provide free shipping for all our hat products worldwide.
If you have any further questions, please don't hesitate to reach out to us.
amazing nice hat at a great value
amazing great hat at a great value, using for English showmanship with Tennessee Walking horse... this hat compliments the participant
Kool hat
Good enough for everyday wear and would pass for quality hat from a galloping horse 20 feet away. I like it and wear it but i still would like a better quality bowler for fancy wear; then again i don''t have that many occasions to wear that much social wear.
Beautiful
The fit & finish was just as expected, the photos are spot on. My hat arrived with two pieces of sizing foam to place under the band.
I purchased this derby hat to wear to my Brother's wedding, it was a 1920s themed event. As the only guy wearing a bowler it was quite popular, my niece even stole it for a few hours!
Really good hat!
Alrighty I just received my hat today and surprisingly it came in a lot sooner than expected, of the date it told me it should come. But let''s get into the pros and cons so far!
Pros: First off this hat is really good quality it feels nice to the touch and fit as expected for my head size so that adds a lot to the item. The hat looks like it''s crafted with good materials and definitely meets my needs for getting it, 100% using it daily if I can! The hat came in a decent sized box well packaged for sure and it was in this little plastic bubble which was funny.
Cons: The dates to get it shipped to me was way to far in the future between July 21st to like the middle of August secondly upon opening the the box and unwrapping the hat I notice as you can see in the picture, the hat is all bent to hell! All misshaped and doesn''t look appealing at all! Also it was hard to contact the actual delivery person cause when you go to contact them it brings up a whole list of other delivery carriers which makes it hard to find which one actually has it!
Besides that the hat definitely still gives it a full 5 stars and the fact it came sooner than the time it said, this definitely is worth the money to have just make sure to buy it super early for anything in case it ships for longer than a week!